Gionee M7 Power: For Those with a Rugged Lifestyle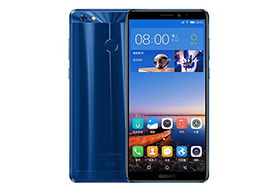 Gionee M7 Power thus standouts amidst fierce competition in the below Rs.20,000 segment; with a glossy texture, the model gives the user a premium in-hand touch & feel, alongside the enhanced grip. The M7 Power is not one of those sleek light-weight models, but a brick built which possibly has the potential to cause serious damage if thrown at someone, thereby being a 'Rock Solid' set for the ones who love the hunkier models.
Living upon its name for long lasting battery back-up, Gionee M7 Power comes with a 5,000 mAh high-quality battery, making the device a delight for multitasking millenial. Moreover, the hefty build, weighing in at 199 grams and 8.6 mm thick, makes it the 'something different' from the mushrooming slim designed models. The 'FullView Display' complying with Gorilla Glass-3 on the front makes the device trendy with wider field of vision, offering a better visual experience. Be it video, live streaming or HD gaming, the bewitching display just captivates the users' to stay glued to it all day long. Good news for the readers too, as the M7 Power comes with Intelligent Eye Protection that reduces strain on the eyes while reading by cutting down blue light. Further, the device also allows split-screen, making it possible to juggle various activities on one screen at the same time.
Empanelled with the Snapdragon 435 processor paired with 4GB of RAM, the device handles day to day tasks well enough. It has a 13MP auto-focus rear camera entwined with LED flash, which is accompanied by an 8 MP fixed focus front camera. Yet another surprise package with this latest model is the M7's ability to also shoot 3D Photos, which until recently, is available only in the premium and high-end smartphones.

M7 Power also offers 'Private Space 2.0' feature and Multi-function fingerprint identification for better security. Biased with Amigo 5.0 OS, this device has a unique WhatsApp clone feature, allowing users to create & manage three WhatsApp accounts in a single device; a feature that wasn't available in any other smartphones. While the Smart Gesture makes life simpler to pause alarm with a single flip, the Black Screen Gesture aides users to access built-in apps like Camera (rear & front), Music, Internet and Torch via simple motion gestures. The device also has a smart vibration feature which alerts you during sleep screen mode if there were any missed calls or messages. Even when you are all covered up in the winter, with Glove Patterns Feature, you can navigate through the devices while keeping your winter gloves on without worrying if the touch screen accepts your input.

At Rs 16,999, the M7 power seems like a fair deal with excellent build quality and battery life. This bulky roadster-like smart phone seems perfect for rough & tough users and the binge viewers who are looking for a solid hefty phone that keeps on running even with a rugged lifestyle.