Pegasystems Launches Pega-Digital Experience – a Next-Gen API for Generating Consumer-Grade Interfaces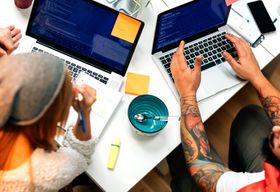 Pega enables developers to use their framework of choice to design elegant frontends that excite their customers' senses while driving powerful digital process automation on the backend that smashes through organizational silos
"Facing massive technological complexity and limited viable solutions, many businesses are forced to make a choice between form and function in their digital presence. With Pega Infinity and Pega Digital Experience API, organizations don't have to settle for tradeoffs. Pega enables developers to use their framework of choice to design elegant frontends that excite their customers' senses while driving powerful digital process automation on the backend that smashes through organizational silos. This unique combination brings businesses the best of both worlds to deliver the most satisfying experiences possible," says Don Schuerman, CTO & VP - Product Marketing, Pegasystems.

Most often technological limitations leave developers with technological silos that make it difficult to consistently deliver advanced experiences across digital channels and are hence forced to hard-code business logic into each individual channel. This poses unpleasant customer experiences and maintenance difficulties. With the new Pega Digital Experience API, organizations can now create front-end interfaces at every digital point of engagement by directly connecting them to an end-to-end process that drives work across the enterprise. Furthermore, Pega aids developers with flexibility to control popular UI frameworks like the React & Angular together with Pega's powerful UX design system to create connected customer experiences with their preferred tools.

In short, the Pega Digital Experience API highlights design capabilities that enable developers to unify with leading design technologies, enhance and extend existing interfaces with micro-frontends, design effective cum elegant interfaces with pre-built templates, and build seamless mobile apps. Today, Pega Infinity powers customer experiences for more than 1.5 billion consumers for some of the largest and most successful brands in the world. By adding the Pega Digital Experience API to Pega Infinity, Pega now delivers both the form and function for digital engagement on a single unified platform.