Prysm Inc introduces 'Prysm LPD 6K', A New Standard for Video Walls in India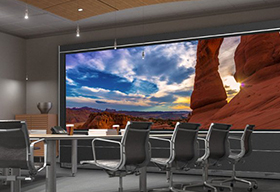 Bangalore:
On the 31st of August (2018) Prysm Inc a leading display and visual collaboration solutions provider, launched the first-of-its-kind Laser Phosphor Display (LPD) 6K Series. The patented display technology is wired to offer seamless immersive visual experiences aiding a new-age category of interactive large-format single panel displays. Designed on Prysm's bona fide platform, the interactive panel display proffers bezel-free viewing above 100 inches with sizes additionally available at 190 and 135 inches.
Commenting on this sensational launch, Amit Jain, Founder & CEO, Prysm stated, "Prysm is committed to bring industry-first experiences to our customers. With the launch of LPD 6K Series, we have set a new standard for interactive video walls and collaboration. Our highest priority is to provide enterprises, their employees and customers with an exceptional user
experience that delivers a unique blend of visual integrity and interactivity to inspire new ideas, drive business forward, and promote working smarter together. We are confident in the success of the LPD 6K series across India and globally." He further went on to call it a "locally flexible and a globally compatible" display panel.

The utility of the 6K Series is uniquely optimized for Customer Experience Centers & Executive Briefing Centers, Board Rooms & Premium Training Rooms, Collaboration & Innovation Centers, Command & Control Centers for Smart Cities and for Education purposes as well. The display panel further enables easy installation to various locations due to its innovative roll-able, self-emissive panel. The durable front screen (made of a specialty coated polycarbonate layer) is rolled into a cylinder serving transport convenience.

On a further note GB Kumar, Vice President (India & Asia Pacific), Prysm said, "Prysm is leading the disruption in the industry with its innovative technology. Today, customers across industries are looking for a future- ready solution that can redefine digital display experience for them and for their brands. With the clearest resolution, unrivalled contrast, and a fully interactive display, LPD 6K, offers an unparalleled experience. We are receiving a lot of interest for the LPD 6K series in India and we are excited to make it available to our partners and customers here".

The revolutionary features of Prysm LPD 6K highlights an immersive high-fill factor with an exceptional contrast ratio, resulting in striking picture quality with built-in interactivity and more than 32 simultaneous touch-points. Its cool-to-the-touch screen with low power intake consumes at least 20 percent less energy than the similar sized LED/LCD video walls. With 96 percent recyclable materials, the shatter resistant display expedites serviceability with easier access from the front of the unit simulating as GB Kumar said 'the garage-door system'.